About Us
Okra Indian Cuisine is a Indian takeaway in Bozeat. Why don't you try our Prawn & Saag Puree or Saag Bhaji?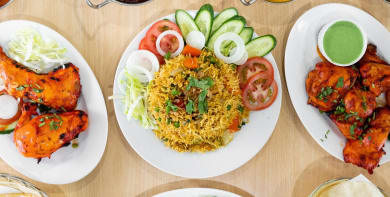 Reviews
420 reviews
Dominique
"Amazing food! Thank you for the free Bombay potato. Nice little touch"
12/09/2020
Elaine
"Lovely food, couldn't fault it and we got extra's for free!"
11/09/2020
ricky
"Great food and great service"
10/09/2020
Mark
"Once again, excellent service from a exceptional establishment. Food arrived early, and was delicious. The drivers are always very courteous too."
10/09/2020
Menu
Tarka Saag Daal
Lentils cooked with garlic & spinach in a thick sauce
£6.95
Vegetable Silsila
Butterbeans & chickpeas cooked with onions, peppers, garlic & coriander in a medium sauce
£6.95
Sabzi Delight
Mushrooms & aubergine, cooked with onions, peppers & garlic in a medium bhuna sauce
£6.95
Sabzi Jalfrezi
Selected mixed vegetables - okra, potatoes, green beans, broccoli, mushrooms & peas cooked with green chillies, onions, peppers & garlic in a hot sauce
£6.95
Sabzi Kabooli
Chickpeas, potatoes & lentils cooked in a madras sauce
£6.95
Sabzi Shashlik Bhuna
Shashlik onions & peppers which are roasted in the tandoori clay oven then cooked with mixed vegetable in a medium hot sauce
£6.95
Salmon Ashwari
Delicately spiced & cooked with onions, green peppers & tomatoes in a medium sauce
£9.95
Sylheti Special Hot
Chicken tikka, seekh kebab & tandoori chicken on the bone cooked in chef's special thick sauce, served mild, medium OR hot
£10.95
Sylheti Special Medium
Chicken tikka, seekh kebab & tandoori chicken on the bone cooked in chef's special thick sauce, served mild, medium OR hot
£10.95
Sylheti Special Mild
Chicken tikka, seekh kebab & tandoori chicken on the bone cooked in chef's special thick sauce, served mild, medium OR hot
£10.95
Sabzi Gosht Korai
Medium spiced lamb cooked with bhindi (okra) & spinach in a desirable thick sauce
£8.50
Raan Shatkara Chicken
Chicken OR lamb cooked with fresh garlic & shatkora lime in an aromatic medium hot sauce
£8.50
Raan Shatkara Lamb
Chicken OR lamb cooked with fresh garlic & shatkora lime in an aromatic medium hot sauce
£8.50
Podina Chicken Tikka
Strips of spicy chicken OR lamb tikka cooked with garlic, coriander & mint in a medium hot sauce
£7.95
Podina Lamb Tikka
Strips of spicy chicken OR lamb tikka cooked with garlic, coriander & mint in a medium hot sauce
£7.95
Tawa Chicken Tikka
Cooked with crushed mustard seeds, red chillies, garlic & bay leafs in a medium sauce
£8.50
Tawa Lamb Tikka
Cooked with crushed mustard seeds, red chillies, garlic & bay leafs in a medium sauce
£8.50
Shashlik Salan
Roasted peppers, onions & tomatoes cooked with chicken tikka strips in a fairly hot sauce
£8.95
Tropical Twister
Strips of mildly marinated chicken cooked with mango & pineapple in a butternut sauce
£8.95
Murgh Nawabi
Delicate pieces of chicken cooked with aubergine, onions, garlic, peppers & finished with coriander
£7.95
Murgh Sabzi Bahar
Strips of chicken, lightly spiced with fresh ground spices, onions, mushrooms, spinach & okra. Cooked on a sizzler, medium hot sauce
£8.95
Mango Chicken
Strips of mango cooked with chicken in a mild creamy sauce
£8.95
Makhani Chicken Tikka
Chicken tikka OR lamb tikka cooked in a mild creamy sauce topped with almond & coconut
£7.95
Makhani Lamb Tikka
Chicken tikka OR lamb tikka cooked in a mild creamy sauce topped with almond & coconut
£7.95
Peri Peri Fire
Hot Goan chicken & lamb cooked with potatoes with a fiery & zesty Portuguese twist
£9.95
King Prawn Jalfrezi
Fairly hot dish cooked with onions, tomatoes, green chillies & garlic
£11.95
Jaal Chingri Saag
Juicy prawns cooked with spinach, sliced green chillies & a touch of hot Naga pickle in a thick sauce
£8.50
Jingha Lahori
Whole king prawns lightly spiced & cooked in a medium hot sauce. Indulged in onions, peppers, garlic & coriander
£12.95
Jaytun Chicken
Chicken cooked with sliced olives, garlic, peppers & onions
£8.95
Akbari Chicken Tikka
Strips of chicken OR lamb tikka cooked with fresh garlic, spinach, mature cheese & coriander in a medium hot sauce
£8.50
Akbari Lamb Tikka
Strips of chicken OR lamb tikka cooked with fresh garlic, spinach, mature cheese & coriander in a medium hot sauce
£8.50
Bedeshi Gosht
Soft delicate pieces of shredded lamb & minced meat cooked in hot madras sauce with onions, garlic, peppers & coriander
£8.95
Bhindi Bhaji
Okra cooked in a dry medium hot sauce
£2.95
Cauliflower Bhaji
Cauliflower cooked in a dry medium hot sauce
£2.95
Daal Samba
Lentils cooked with mixed vegetables
£2.95
Aloo Chana
Potatoes & chickpeas
£2.95
Aloo Gobi
Potatoes & cauliflower
£2.95
Bombay Aloo
Potato side dish, medium spiced, with fresh tomatoes
£2.95
Brinjal Bhaji
Aubergines cooked in a dry medium sauce
£2.95
Chana Masala
Chickpeas in a medium hot sauce
£2.95
Chana Paneer
Chickpeas cooked with Indian cottage cheese in a medium hot sauce
£2.95
Chana Saag
Chickpeas cooked with spinach in a medium hot sauce
£2.95
Saag Aloo
Fresh spinach & potatoes
£2.95
Saag Bhaji
Fresh spinach in a medium hot dry sauce
£2.95
Saag Paneer
Fresh spinach cooked with Indian cottage cheese
£2.95
Mattar Paneer
Garden peas cooked with Indian cottage cheese
£2.95
Mixed Vegetable Curry
Mixture of vegetables in a medium hot sauce
£2.95
Mushroom Bhaji
Mushrooms in a medium hot sauce
£2.95
Tarka Daal
Lentils cooked with garlic
£2.95
Vegetable Bhaji
Mixture of vegetables in a dry medium hot sauce
£2.95
Achari Chicken Tikka
Cooked with special spices in a medium sauce, fused with a tangy lime pickle
£7.95
Achari Lamb Tikka
Cooked with special spices in a medium sauce, fused with a tangy lime pickle
£7.95
Butter Chicken
Cooked in a mild creamy butter sauce, garnished with butter
£7.95
Butter Lamb
Cooked in a mild creamy butter sauce, garnished with butter
£7.95
Cheese Rani Chicken Tikka
Chicken OR lamb tikka cooked in a mild creamy sauce, garnished with mature grated cheese
£7.95
Cheese Rani Lamb Tikka
Chicken OR lamb tikka cooked in a mild creamy sauce, garnished with mature grated cheese
£7.95
Chicken Tikka Rezala
Slightly hot dish cooked with onions, garlic & chilli pickle
£7.95
Garlic Chilli Bhuna Chicken Tikka
Fresh green chillies & garlic, onions, green peppers, cooked with chicken OR lamb in a fairly hot sauce
£7.95
Garlic Chilli Bhuna Lamb Tikka
Fresh green chillies & garlic, onions, green peppers, cooked with chicken OR lamb in a fairly hot sauce
£7.95
Garlic Bhuna Chicken Tikka
Fresh garlic, onions, green peppers cooked with chicken OR lamb in a medium sauce
£7.95
Garlic Bhuna Lamb Tikka
Fresh garlic, onions, green peppers cooked with chicken OR lamb in a medium sauce
£7.95
Jalfrezi Chicken Tikka
Fairly hot, cooked with onions, green chillies & tomato
£7.95
Jalfrezi Lamb Tikka
Fairly hot, cooked with onions, green chillies & tomato
£7.95
Korai Chicken Tikka
Cooked with onions, green peppers & tomatoes in a medium hot sauce
£7.95
Korai Lamb Tikka
Cooked with onions, green peppers & tomatoes in a medium hot sauce
£7.95
Lamb Handi Bhuna
Cooked with onions, green peppers & tomatoes in a fairly hot sauce with tomatoes
£7.95
Muktaj Chicken Tikka
Cooked with garlic & ginger - a special exotic flavour
£7.95
Muktaj Lamb Tikka
Cooked with garlic & ginger - a special exotic flavour
£7.95
Murgh Mossalam
Chicken tikka cooked with mince in a medium hot sauce, finished with a boiled egg
£7.95
Naga Chicken Tikka
Chicken OR lamb tikka cooked in a very hot sauce consisting of Naga pickle
£7.95
Naga Lamb Tikka
Chicken OR lamb tikka cooked in a very hot sauce consisting of Naga pickle
£7.95
Pasanda Chicken Tikka
Chicken OR lamb tikka cooked in a mild creamy sauce, with yoghurt, mild spices, sultanas & almonds
£7.95
Pasanda Lamb Tikka
Chicken OR lamb tikka cooked in a mild creamy sauce, with yoghurt, mild spices, sultanas & almonds
£7.95
Okra Special Curry
Chicken tikka, lamb tikka, king prawns & okra cooked in a medium hot sauce garnished with coriander
£10.95
Tikka Massala Chicken
The nations favourite. A dish cooked with mild spices, cream, coconut, almonds & sultanas
£7.95
Tikka Massala Lamb
The nations favourite. A dish cooked with mild spices, cream, coconut, almonds & sultanas
£7.95
Set Meal For 1
Poppadoms & chutneys
Onion bhaji
Chicken tikka masala
Bombay potato
Pilau rice
Naan
£13.95
Set Meal For 2
2 poppadoms & chutneys
Chicken tikka starter
Onion bhaji
Chicken tikka masala
Lamb bhuna
Bombay potato
Pilau rice
Special rice
Naan
£24.95
Biryani Chicken & Mushroom
£7.25
Okra Special Biryani
Mixture of chicken tikka, lamb tikka & king prawns
£11.95
Tikka Starter Chicken
Marinated pieces of chicken OR lamb grilled in the tandoori
£3.50
Tikka Starter Lamb
Marinated pieces of chicken OR lamb grilled in the tandoori
£3.50
Tandoori Chicken Starter
On the bone, marinated in special herbs & spices, cooked in the tandoor
£3.50
Prawn & Saag Puree
Prawns & spinach cooked in a medium spiced sauce served on a bed of deep fried bread
£3.95
Prawn Puree
Cooked in a medium spiced sauce served on a bed of deep fried bread
£3.95
Salmon Shah
Chunks of fresh salmon marinated in special spices, coriander, herbs & lightly fried then stir fried with onions & peppers
£4.50
Mysore Chilli Chicken
Chicken strip stir fried with onions & chilli in a sweet & sour sauce
£4.95
Maas Biran Starter
Fillets of a traditional Bangladeshi white fish, coated in a special marinade, lightly fried & then combined with spices, onions & coriander
£4.50
Okra Special Starter
Juicy pieces of chicken tikka, lamb tikka & seekh kebab barbecued in the tandoori oven then stir fried with onions, coriander & peppers
£4.95
Onion Bhaji
Chopped onions blended with spices rolled in gram flour, deep fried
3 pieces
£2.50
Paneer Shashlik
Cubes of Indian cottage cheese marinated in special spices, grilled in the tandoori oven & completed in a stir fry with pieces of roasted onions, peppers & tomato
£4.50
Bilathi Mirchi Chicken
Chicken, lamb OR vegetables lightly spiced in a sauce & stuffed in a pepper which is then roasted in tandoori oven
£4.75
Bilathi Mirchi Lamb
Chicken, lamb OR vegetables lightly spiced in a sauce & stuffed in a pepper which is then roasted in tandoori oven
£4.75
Bilathi Mirchi Vegetables
Chicken, lamb OR vegetables lightly spiced in a sauce & stuffed in a pepper which is then roasted in tandoori oven
£4.75
Chicken Pakora
Pieces of chicken tikka, coated in batter & deep fried
£3.50
Chicken Chaat
Small pieces of chicken in a medium spiced sauce, served on a bed of deep fried bread
£3.95
King Prawn Puree
King prawns cooked in a medium spiced sauce served on a bed of deep fried bread
£4.95
Garlic Mushroom Puree
Mushrooms & garlic lightly spiced in a sauce & served on a bed of deep fried bread
£3.50
Okra Special Balti
Chicken tikka, lamb tikka & king prawns
£10.95
Special Naan
Minced meat, green chillies, garlic & coriander
£2.95
Pathia Chicken
Fairly hot, sweet & sour, cooked with tomatoes & onions
£6.50
Pathia Chicken Tikka
Fairly hot, sweet & sour, cooked with tomatoes & onions
£6.95
Pathia King Prawn
Fairly hot, sweet & sour, cooked with tomatoes & onions
£11.95
Pathia Lamb
Fairly hot, sweet & sour, cooked with tomatoes & onions
£6.50
Pathia Lamb Tikka
Fairly hot, sweet & sour, cooked with tomatoes & onions
£6.95
Pathia Okra Special
Fairly hot, sweet & sour, cooked with tomatoes & onions
£10.95
Pathia Prawn
Fairly hot, sweet & sour, cooked with tomatoes & onions
£6.95
Pathia Vegetable
Fairly hot, sweet & sour, cooked with tomatoes & onions
£5.50
Rogan Chicken
Tomatoes, onions, peppers cooked in a medium hot sauce
£6.50
Rogan Chicken Tikka
Tomatoes, onions, peppers cooked in a medium hot sauce
£6.95
Rogan King Prawn
Tomatoes, onions, peppers cooked in a medium hot sauce
£11.95
Rogan Lamb
Tomatoes, onions, peppers cooked in a medium hot sauce
£5.95
Rogan Lamb Tikka
Tomatoes, onions, peppers cooked in a medium hot sauce
£6.95
Rogan Okra Special
Tomatoes, onions, peppers cooked in a medium hot sauce
£10.95
Rogan Prawn
Tomatoes, onions, peppers cooked in a medium hot sauce
£6.95
Rogan Vegetable
Tomatoes, onions, peppers cooked in a medium hot sauce
£5.50
Saag Chicken
A medium dish cooked in a dry sauce with spinach
£6.50
Saag Chicken Tikka
A medium dish cooked in a dry sauce with spinach
£6.95
Saag King Prawn
A medium dish cooked in a dry sauce with spinach
£11.95
Saag Lamb
A medium dish cooked in a dry sauce with spinach
£6.50
Saag Lamb Tikka
A medium dish cooked in a dry sauce with spinach
£6.95
Saag Okra Special
A medium dish cooked in a dry sauce with spinach
£10.95
Saag Prawn
A medium dish cooked in a dry sauce with spinach
£6.95
Saag Vegetable
A medium dish cooked in a dry sauce with spinach
£5.50
Madras Chicken
A fairly hot dish with a touch of lemon juice & coriander
£6.50
Madras Chicken Tikka
A fairly hot dish with a touch of lemon juice & coriander
£6.95
Madras King Prawn
A fairly hot dish with a touch of lemon juice & coriander
£11.95
Madras Lamb
A fairly hot dish with a touch of lemon juice & coriander
£6.50
Madras Lamb Tikka
A fairly hot dish with a touch of lemon juice & coriander
£6.95
Madras Okra Special
A fairly hot dish with a touch of lemon juice & coriander
£10.95
Madras Prawn
A fairly hot dish with a touch of lemon juice & coriander
£6.95
Madras Vegetable
A fairly hot dish with a touch of lemon juice & coriander
£5.50
Malaya Chicken
A tropical mild & creamy dish cooked with chunks of pineapple
£6.50
Malaya Chicken Tikka
A tropical mild & creamy dish cooked with chunks of pineapple
£6.95
Malaya King Prawn
A tropical mild & creamy dish cooked with chunks of pineapple
£11.95
Malaya Lamb
A tropical mild & creamy dish cooked with chunks of pineapple
£6.50
Malaya Lamb Tikka
A tropical mild & creamy dish cooked with chunks of pineapple
£6.95
Malaya Okra Special
A tropical mild & creamy dish cooked with chunks of pineapple
£10.95
Malaya Prawn
A tropical mild & creamy dish cooked with chunks of pineapple
£6.95
Malaya Vegetable
A tropical mild & creamy dish cooked with chunks of pineapple
£5.50
Vindaloo Chicken
Cooked in a very hot spicy sauce with potatoes
£6.50
Vindaloo Chicken Tikka
Cooked in a very hot spicy sauce with potatoes
£6.95
Vindaloo King Prawn
Cooked in a very hot spicy sauce with potatoes
£11.95
Vindaloo Lamb
Cooked in a very hot spicy sauce with potatoes
£6.50
Vindaloo Lamb Tikka
Cooked in a very hot spicy sauce with potatoes
£6.95
Vindaloo Okra Special
Cooked in a very hot spicy sauce with potatoes
£10.95
Vindaloo Prawn
Cooked in a very hot spicy sauce with potatoes
£6.95
Vindaloo Vegetable
Cooked in a very hot spicy sauce with potatoes
£5.50
Curry Chicken
The traditional favourite cooked in a medium sauce
£6.50
Curry Chicken Tikka
The traditional favourite cooked in a medium sauce
£6.95
Curry King Prawn
The traditional favourite cooked in a medium sauce
£11.95
Curry Lamb
The traditional favourite cooked in a medium sauce
£6.50
Curry Lamb Tikka
The traditional favourite cooked in a medium sauce
£6.95
Curry Okra Special
The traditional favourite cooked in a medium sauce
£10.95
Curry Prawn
The traditional favourite cooked in a medium sauce
£6.95
Curry Vegetable
The traditional favourite cooked in a medium sauce
£5.50
Chilli Massala Chicken
Cooked in a very hot spicy sauce, with fresh green chillies, garlic & coriander
£6.50
Chilli Massala Chicken Tikka
Cooked in a very hot spicy sauce, with fresh green chillies, garlic & coriander
£6.95
Chilli Massala King Prawn
Cooked in a very hot spicy sauce, with fresh green chillies, garlic & coriander
£11.95
Chilli Massala Lamb
Cooked in a very hot spicy sauce, with fresh green chillies, garlic & coriander
£6.50
Chilli Massala Lamb Tikka
Cooked in a very hot spicy sauce, with fresh green chillies, garlic & coriander
£6.95
Chilli Massala Okra Special
Cooked in a very hot spicy sauce, with fresh green chillies, garlic & coriander
£10.95
Chilli Massala Prawn
Cooked in a very hot spicy sauce, with fresh green chillies, garlic & coriander
£6.95
Chilli Massala Vegetable
Cooked in a very hot spicy sauce, with fresh green chillies, garlic & coriander
£5.50
Ceylon Chicken
A fairly hot dish cooked with coconut
£6.50
Ceylon Chicken Tikka
A fairly hot dish cooked with coconut
£6.95
Ceylon King Prawn
A fairly hot dish cooked with coconut
£11.95
Ceylon Lamb
A fairly hot dish cooked with coconut
£6.50
Ceylon Lamb Tikka
A fairly hot dish cooked with coconut
£6.95
Ceylon Okra Special
A fairly hot dish cooked with coconut
£10.95
Ceylon Prawn
A fairly hot dish cooked with coconut
£6.95
Ceylon Vegetable
A fairly hot dish cooked with coconut
£5.50
Bhuna Chicken
Cooked in a thick medium sauce with sliced onions, tomatoes & coriander
£6.50
Bhuna Chicken Tikka
Cooked in a thick medium sauce with sliced onions, tomatoes & coriander
£6.95
Bhuna King Prawn
Cooked in a thick medium sauce with sliced onions, tomatoes & coriander
£11.95
Bhuna Lamb
Cooked in a thick medium sauce with sliced onions, tomatoes & coriander
£6.50
Bhuna Lamb Tikka
Cooked in a thick medium sauce with sliced onions, tomatoes & coriander
£6.95
Bhuna Okra Special
Cooked in a thick medium sauce with sliced onions, tomatoes & coriander
£10.95
Bhuna Prawn
Cooked in a thick medium sauce with sliced onions, tomatoes & coriander
£6.95
Bhuna Vegetable
Cooked in a thick medium sauce with sliced onions, tomatoes & coriander
£5.50
Dansak Chicken
Fairly hot, sweet & sour, cooked with lentils & spices
£6.50
Dansak Chicken Tikka
Fairly hot, sweet & sour, cooked with lentils & spices
£6.95
Dansak King Prawn
Fairly hot, sweet & sour, cooked with lentils & spices
£11.95
Dansak Lamb
Fairly hot, sweet & sour, cooked with lentils & spices
£6.50
Dansak Lamb Tikka
Fairly hot, sweet & sour, cooked with lentils & spices
£6.95
Dansak Okra Special
Fairly hot, sweet & sour, cooked with lentils & spices
£10.95
Dansak Prawn
Fairly hot, sweet & sour, cooked with lentils & spices
£6.95
Dansak Vegetable
Fairly hot, sweet & sour, cooked with lentils & spices
£5.50
Dopiaza Chicken
A medium hot dish cooked with chopped onions, peppers & garlic
£6.50
Dopiaza Chicken Tikka
A medium hot dish cooked with chopped onions, peppers & garlic
£6.95
Dopiaza King Prawn
A medium hot dish cooked with chopped onions, peppers & garlic
£11.95
Dopiaza Lamb
A medium hot dish cooked with chopped onions, peppers & garlic
£6.50
Dopiaza Lamb Tikka
A medium hot dish cooked with chopped onions, peppers & garlic
£6.95
Dopiaza Okra Special
A medium hot dish cooked with chopped onions, peppers & garlic
£10.95
Dopiaza Prawn
A medium hot dish cooked with chopped onions, peppers & garlic
£6.95
Dopiaza Vegetable
A medium hot dish cooked with chopped onions, peppers & garlic
£5.50
Kashmir Chicken
A very mild creamy dish cooked with banana slices & delicate light flavours
£6.50
Kashmir Chicken Tikka
A very mild creamy dish cooked with banana slices & delicate light flavours
£6.95
Kashmir King Prawn
A very mild creamy dish cooked with banana slices & delicate light flavours
£11.95
Kashmir Lamb
A very mild creamy dish cooked with banana slices & delicate light flavours
£6.50
Kashmir Lamb Tikka
A very mild creamy dish cooked with banana slices & delicate light flavours
£6.95
Kashmir Okra Special
A very mild creamy dish cooked with banana slices & delicate light flavours
£10.95
Kashmir Prawn
A very mild creamy dish cooked with banana slices & delicate light flavours
£6.95
Kashmir Vegetable
A very mild creamy dish cooked with banana slices & delicate light flavours
£5.50
Korma Chicken
Cooked in a very mild & creamy sauce
£6.50
Korma Chicken Tikka
Cooked in a very mild & creamy sauce
£6.95
Korma King Prawn
Cooked in a very mild & creamy sauce
£11.95
Korma Lamb
Cooked in a very mild & creamy sauce
£6.50
Korma Lamb Tikka
Cooked in a very mild & creamy sauce
£6.95
Korma Okra Special
Cooked in a very mild & creamy sauce
£10.95
Korma Prawn
Cooked in a very mild & creamy sauce
£6.95
Korma Vegetable
Cooked in a very mild & creamy sauce
£5.50
Garlic Chilli Chicken
Marinated pieces of chicken with light spices, fresh garlic & chilli cooked in the clay oven then completed in a stir fry, peppers, onions & coriander
£6.95
Barbrick Chicken Tikka
Chicken OR lamb tikka stir fried with onions, peppers & mushrooms (this dish is not cooked in a sauce)
£7.95
Barbrick Lamb Tikka
Chicken OR lamb tikka stir fried with onions, peppers & mushrooms (this dish is not cooked in a sauce)
£7.95
Peri Peri Chicken
Grilled strips of chicken marinated in a special peri peri sauce
£7.95
Naga Grill
Grilled strips of chicken & lamb tikka cooked with onions, peppers & Naga sauce, fairly hot dish
£7.95
Maas Biran Main
Fillets of a white Bangladeshi fish, lightly spiced & cooked in the clay oven, finished in a stir fry with onions, peppers, coriander & a hint of garlic
£7.95
Shashlik Main Chicken
Tender pieces of marinated chicken OR lamb barbecued with onions, peppers & tomatoes
£7.95
Shashlik Main Lamb
Tender pieces of marinated chicken OR lamb barbecued with onions, peppers & tomatoes
£7.95
Tandoori Chicken
Tender chicken on the bone marinated with fresh spices & cooked in the clay oven
£6.50
Tandoori King Prawn
Marinated with herbs & spiced cooked in the clay oven
£10.95
Tandoori Mixed Grill
Chicken tikka, lamb tikka, tandoori chicken & seekh kebab served with naan bread
£9.95
Tikka Main Chicken
Pieces of chicken OR lamb fused with the finest spices in a marinade & cooked in the clay oven
£6.50
Tikka Main Lamb
Pieces of chicken OR lamb fused with the finest spices in a marinade & cooked in the clay oven
£6.50
Tikka Madhu
Roasted pieces of chicken cooked with caramelised onions & peppers, finished with honey
£7.95
Garlic Saag Rice
Fresh spinach & garlic
£2.65
Naga Rice
With green chillies & Naga pickle
£2.65
Chutneys Tamarind Chutney
£0.50
Contact Us
Find Us
21 High Street, Bozeat, NN297NF
We deliver to
MK43, MK44, MK46, NN10, NN29, NN6, NN7, NN8