About Us
Okra Indian Cuisine is a Indian takeaway in Bozeat. Why don't you try our Prawn & Saag Puree or Saag Bhaji?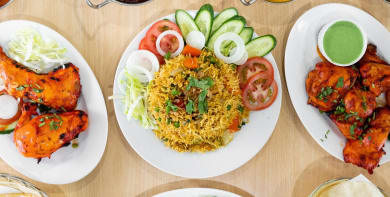 Reviews
343 reviews
lee
"Delicious food, still hot and delivery time as expected. Highly recommended"
27/05/2020
Maggie
"Brilliant as always. We love Okra, the best in lockdown. Thank you as always."
23/05/2020
Paul
"Ordered for the first time, food was excellent and hot on arrival."
23/05/2020
tim
"Spot on as usual. We only ever order from Okra now after trying pretty much all the others in the area. The food is full of flavour and always fresh, outstanding guys keep up the good work!"
23/05/2020
Menu
Tarka Saag Daal
Lentils cooked with garlic & spinach in a thick sauce
£6.95
Vegetable Silsila
Butterbeans & chickpeas cooked with onions, peppers, garlic & coriander in a medium sauce
£6.95
Sabzi Delight
Mushrooms & aubergine, cooked with onions, peppers & garlic in a medium bhuna sauce
£6.95
Sabzi Jalfrezi
Selected mixed vegetables - okra, potatoes, green beans, broccoli, mushrooms & peas cooked with green chillies, onions, peppers & garlic in a hot sauce
£6.95
Sabzi Kabooli
Chickpeas, potatoes & lentils cooked in a madras sauce
£6.95
Sabzi Shashlik Bhuna
Shashlik onions & peppers which are roasted in the tandoori clay oven then cooked with mixed vegetable in a medium hot sauce
£6.95
Salmon Ashwari
Delicately spiced & cooked with onions, green peppers & tomatoes in a medium sauce
£9.95
Sylheti Special Hot
Chicken tikka, seekh kebab & tandoori chicken on the bone cooked in chef's special thick sauce, served mild, medium OR hot
£10.95
Sylheti Special Medium
Chicken tikka, seekh kebab & tandoori chicken on the bone cooked in chef's special thick sauce, served mild, medium OR hot
£10.95
Sylheti Special Mild
Chicken tikka, seekh kebab & tandoori chicken on the bone cooked in chef's special thick sauce, served mild, medium OR hot
£10.95
Sabzi Gosht Korai
Medium spiced lamb cooked with bhindi (okra) & spinach in a desirable thick sauce
£8.50
Raan Shatkara Chicken
Chicken OR lamb cooked with fresh garlic & shatkora lime in an aromatic medium hot sauce
£8.50
Raan Shatkara Lamb
Chicken OR lamb cooked with fresh garlic & shatkora lime in an aromatic medium hot sauce
£8.50
Podina Chicken Tikka
Strips of spicy chicken OR lamb tikka cooked with garlic, coriander & mint in a medium hot sauce
£6.95
Podina Lamb Tikka
Strips of spicy chicken OR lamb tikka cooked with garlic, coriander & mint in a medium hot sauce
£6.95
Tawa Chicken Tikka
Cooked with crushed mustard seeds, red chillies, garlic & bay leafs in a medium sauce
£8.50
Tawa Lamb Tikka
Cooked with crushed mustard seeds, red chillies, garlic & bay leafs in a medium sauce
£8.50
Shashlik Salan
Roasted peppers, onions & tomatoes cooked with chicken tikka strips in a fairly hot sauce
£8.95
Tropical Twister
Strips of mildly marinated chicken cooked with mango & pineapple in a butternut sauce
£8.95
Murgh Nawabi
Delicate pieces of chicken cooked with aubergine, onions, garlic, peppers & finished with coriander
£7.95
Murgh Sabzi Bahar
Strips of chicken, lightly spiced with fresh ground spices, onions, mushrooms, spinach & okra. Cooked on a sizzler, medium hot sauce
£8.95
Mango Chicken
Strips of mango cooked with chicken in a mild creamy sauce
£8.95
Makhani Chicken Tikka
Chicken tikka OR lamb tikka cooked in a mild creamy sauce topped with almond & coconut
£7.95
Makhani Lamb Tikka
Chicken tikka OR lamb tikka cooked in a mild creamy sauce topped with almond & coconut
£7.95
Peri Peri Fire
Hot Goan chicken & lamb cooked with potatoes with a fiery & zesty Portuguese twist
£9.95
King Prawn Jalfrezi
Fairly hot dish cooked with onions, tomatoes, green chillies & garlic
£11.95
Jaal Chingri Saag
Juicy prawns cooked with spinach, sliced green chillies & a touch of hot Naga pickle in a thick sauce
£8.50
Jingha Lahori
Whole king prawns lightly spiced & cooked in a medium hot sauce. Indulged in onions, peppers, garlic & coriander
£12.95
Jaytun Chicken
Chicken cooked with sliced olives, garlic, peppers & onions
£8.95
Akbari Chicken Tikka
Strips of chicken OR lamb tikka cooked with fresh garlic, spinach, mature cheese & coriander in a medium hot sauce
£8.50
Akbari Lamb Tikka
Strips of chicken OR lamb tikka cooked with fresh garlic, spinach, mature cheese & coriander in a medium hot sauce
£8.50
Bedeshi Gosht
Soft delicate pieces of shredded lamb & minced meat cooked in hot madras sauce with onions, garlic, peppers & coriander
£8.95
Bhindi Bhaji
Okra cooked in a dry medium hot sauce
£2.95
Cauliflower Bhaji
Cauliflower cooked in a dry medium hot sauce
£2.95
Daal Samba
Lentils cooked with mixed vegetables
£2.95
Aloo Chana
Potatoes & chickpeas
£2.95
Aloo Gobi
Potatoes & cauliflower
£2.95
Bombay Aloo
Potato side dish, medium spiced, with fresh tomatoes
£2.95
Brinjal Bhaji
Aubergines cooked in a dry medium sauce
£2.95
Chana Masala
Chickpeas in a medium hot sauce
£2.95
Chana Paneer
Chickpeas cooked with Indian cottage cheese in a medium hot sauce
£2.95
Chana Saag
Chickpeas cooked with spinach in a medium hot sauce
£2.95
Saag Aloo
Fresh spinach & potatoes
£2.95
Saag Bhaji
Fresh spinach in a medium hot dry sauce
£2.95
Saag Paneer
Fresh spinach cooked with Indian cottage cheese
£2.95
Mattar Paneer
Garden peas cooked with Indian cottage cheese
£2.95
Mixed Vegetable Curry
Mixture of vegetables in a medium hot sauce
£2.95
Mushroom Bhaji
Mushrooms in a medium hot sauce
£2.95
Tarka Daal
Lentils cooked with garlic
£2.95
Vegetable Bhaji
Mixture of vegetables in a dry medium hot sauce
£2.95
Achari Chicken Tikka
Cooked with special spices in a medium sauce, fused with a tangy lime pickle
£7.95
Achari Lamb Tikka
Cooked with special spices in a medium sauce, fused with a tangy lime pickle
£7.95
Butter Chicken
Cooked in a mild creamy butter sauce, garnished with butter
£7.95
Butter Lamb
Cooked in a mild creamy butter sauce, garnished with butter
£7.95
Cheese Rani Chicken Tikka
Chicken OR lamb tikka cooked in a mild creamy sauce, garnished with mature grated cheese
£7.95
Cheese Rani Lamb Tikka
Chicken OR lamb tikka cooked in a mild creamy sauce, garnished with mature grated cheese
£7.95
Chicken Tikka Rezala
Slightly hot dish cooked with onions, garlic & chilli pickle
£6.95
Garlic Chilli Bhuna Chicken Tikka
Fresh green chillies & garlic, onions, green peppers, cooked with chicken OR lamb in a fairly hot sauce
£7.95
Garlic Chilli Bhuna Lamb Tikka
Fresh green chillies & garlic, onions, green peppers, cooked with chicken OR lamb in a fairly hot sauce
£7.95
Garlic Bhuna Chicken Tikka
Fresh garlic, onions, green peppers cooked with chicken OR lamb in a medium sauce
£7.95
Garlic Bhuna Lamb Tikka
Fresh garlic, onions, green peppers cooked with chicken OR lamb in a medium sauce
£7.95
Jalfrezi Chicken Tikka
Fairly hot, cooked with onions, green chillies & tomato
£7.95
Jalfrezi Lamb Tikka
Fairly hot, cooked with onions, green chillies & tomato
£7.95
Korai Chicken Tikka
Cooked with onions, green peppers & tomatoes in a medium hot sauce
£7.95
Korai Lamb Tikka
Cooked with onions, green peppers & tomatoes in a medium hot sauce
£7.95
Lamb Handi Bhuna
Cooked with onions, green peppers & tomatoes in a fairly hot sauce with tomatoes
£7.95
Muktaj Chicken Tikka
Cooked with garlic & ginger - a special exotic flavour
£7.95
Muktaj Lamb Tikka
Cooked with garlic & ginger - a special exotic flavour
£7.95
Murgh Mossalam
Chicken tikka cooked with mince in a medium hot sauce, finished with a boiled egg
£7.95
Naga Chicken Tikka
Chicken OR lamb tikka cooked in a very hot sauce consisting of Naga pickle
£7.95
Naga Lamb Tikka
Chicken OR lamb tikka cooked in a very hot sauce consisting of Naga pickle
£7.95
Pasanda Chicken Tikka
Chicken OR lamb tikka cooked in a mild creamy sauce, with yoghurt, mild spices, sultanas & almonds
£7.95
Pasanda Lamb Tikka
Chicken OR lamb tikka cooked in a mild creamy sauce, with yoghurt, mild spices, sultanas & almonds
£7.95
Okra Special Curry
Chicken tikka, lamb tikka, king prawns & okra cooked in a medium hot sauce garnished with coriander
£10.95
Tikka Massala Chicken
The nations favourite. A dish cooked with mild spices, cream, coconut, almonds & sultanas
£7.95
Tikka Massala Lamb
The nations favourite. A dish cooked with mild spices, cream, coconut, almonds & sultanas
£7.95
Set Meal For 1
Poppadoms & chutneys
Onion bhaji
Chicken tikka masala
Bombay potato
Pilau rice
Naan
£13.95
Set Meal For 2
2 poppadoms & chutneys
Chicken tikka starter
Onion bhaji
Chicken tikka masala
Lamb bhuna
Bombay potato
Pilau rice
Special rice
Naan
£24.95
Biryani Chicken & Mushroom
£7.25
Okra Special Biryani
Mixture of chicken tikka, lamb tikka & king prawns
£11.95
Tikka Starter Chicken
Marinated pieces of chicken OR lamb grilled in the tandoori
£3.50
Tikka Starter Lamb
Marinated pieces of chicken OR lamb grilled in the tandoori
£3.50
Tandoori Chicken Starter
On the bone, marinated in special herbs & spices, cooked in the tandoor
£3.50
Prawn & Saag Puree
Prawns & spinach cooked in a medium spiced sauce served on a bed of deep fried bread
£3.95
Prawn Puree
Cooked in a medium spiced sauce served on a bed of deep fried bread
£3.95
Salmon Shah
Chunks of fresh salmon marinated in special spices, coriander, herbs & lightly fried then stir fried with onions & peppers
£4.50
Mysore Chilli Chicken
Chicken strip stir fried with onions & chilli in a sweet & sour sauce
£4.95
Maas Biran Starter
Fillets of a traditional Bangladeshi white fish, coated in a special marinade, lightly fried & then combined with spices, onions & coriander
£4.50
Okra Special Starter
Juicy pieces of chicken tikka, lamb tikka & seekh kebab barbecued in the tandoori oven then stir fried with onions, coriander & peppers
£4.95
Onion Bhaji
Chopped onions blended with spices rolled in gram flour, deep fried
3 pieces
£2.50
Paneer Shashlik
Cubes of Indian cottage cheese marinated in special spices, grilled in the tandoori oven & completed in a stir fry with pieces of roasted onions, peppers & tomato
£4.50
Bilathi Mirchi Chicken
Chicken, lamb OR vegetables lightly spiced in a sauce & stuffed in a pepper which is then roasted in tandoori oven
£4.75
Bilathi Mirchi Lamb
Chicken, lamb OR vegetables lightly spiced in a sauce & stuffed in a pepper which is then roasted in tandoori oven
£4.75
Bilathi Mirchi Vegetables
Chicken, lamb OR vegetables lightly spiced in a sauce & stuffed in a pepper which is then roasted in tandoori oven
£4.75
Chicken Pakora
Pieces of chicken tikka, coated in batter & deep fried
£3.50
Chicken Chaat
Small pieces of chicken in a medium spiced sauce, served on a bed of deep fried bread
£3.95
King Prawn Puree
King prawns cooked in a medium spiced sauce served on a bed of deep fried bread
£4.95
Garlic Mushroom Puree
Mushrooms & garlic lightly spiced in a sauce & served on a bed of deep fried bread
£3.50
Okra Special Balti
Chicken tikka, lamb tikka & king prawns
£10.95
Special Naan
Minced meat, green chillies, garlic & coriander
£2.95
Pathia Chicken
Fairly hot, sweet & sour, cooked with tomatoes & onions
£6.50
Pathia Chicken Tikka
Fairly hot, sweet & sour, cooked with tomatoes & onions
£6.95
Pathia King Prawn
Fairly hot, sweet & sour, cooked with tomatoes & onions
£11.95
Pathia Lamb
Fairly hot, sweet & sour, cooked with tomatoes & onions
£6.50
Pathia Lamb Tikka
Fairly hot, sweet & sour, cooked with tomatoes & onions
£6.95
Pathia Okra Special
Fairly hot, sweet & sour, cooked with tomatoes & onions
£10.95
Pathia Prawn
Fairly hot, sweet & sour, cooked with tomatoes & onions
£6.95
Pathia Vegetable
Fairly hot, sweet & sour, cooked with tomatoes & onions
£5.50
Rogan Chicken
Tomatoes, onions, peppers cooked in a medium hot sauce
£6.50
Rogan Chicken Tikka
Tomatoes, onions, peppers cooked in a medium hot sauce
£6.95
Rogan King Prawn
Tomatoes, onions, peppers cooked in a medium hot sauce
£11.95
Rogan Lamb
Tomatoes, onions, peppers cooked in a medium hot sauce
£5.95
Rogan Lamb Tikka
Tomatoes, onions, peppers cooked in a medium hot sauce
£6.95
Rogan Okra Special
Tomatoes, onions, peppers cooked in a medium hot sauce
£10.95
Rogan Prawn
Tomatoes, onions, peppers cooked in a medium hot sauce
£6.95
Rogan Vegetable
Tomatoes, onions, peppers cooked in a medium hot sauce
£5.50
Saag Chicken
A medium dish cooked in a dry sauce with spinach
£6.50
Saag Chicken Tikka
A medium dish cooked in a dry sauce with spinach
£6.95
Saag King Prawn
A medium dish cooked in a dry sauce with spinach
£11.95
Saag Lamb
A medium dish cooked in a dry sauce with spinach
£6.50
Saag Lamb Tikka
A medium dish cooked in a dry sauce with spinach
£6.95
Saag Okra Special
A medium dish cooked in a dry sauce with spinach
£10.95
Saag Prawn
A medium dish cooked in a dry sauce with spinach
£6.95
Saag Vegetable
A medium dish cooked in a dry sauce with spinach
£5.50
Madras Chicken
A fairly hot dish with a touch of lemon juice & coriander
£6.50
Madras Chicken Tikka
A fairly hot dish with a touch of lemon juice & coriander
£6.95
Madras King Prawn
A fairly hot dish with a touch of lemon juice & coriander
£11.95
Madras Lamb
A fairly hot dish with a touch of lemon juice & coriander
£6.50
Madras Lamb Tikka
A fairly hot dish with a touch of lemon juice & coriander
£6.95
Madras Okra Special
A fairly hot dish with a touch of lemon juice & coriander
£10.95
Madras Prawn
A fairly hot dish with a touch of lemon juice & coriander
£6.95
Madras Vegetable
A fairly hot dish with a touch of lemon juice & coriander
£5.50
Malaya Chicken
A tropical mild & creamy dish cooked with chunks of pineapple
£6.50
Malaya Chicken Tikka
A tropical mild & creamy dish cooked with chunks of pineapple
£6.95
Malaya King Prawn
A tropical mild & creamy dish cooked with chunks of pineapple
£11.95
Malaya Lamb
A tropical mild & creamy dish cooked with chunks of pineapple
£6.50
Malaya Lamb Tikka
A tropical mild & creamy dish cooked with chunks of pineapple
£6.95
Malaya Okra Special
A tropical mild & creamy dish cooked with chunks of pineapple
£10.95
Malaya Prawn
A tropical mild & creamy dish cooked with chunks of pineapple
£6.95
Malaya Vegetable
A tropical mild & creamy dish cooked with chunks of pineapple
£5.50
Vindaloo Chicken
Cooked in a very hot spicy sauce with potatoes
£6.50
Vindaloo Chicken Tikka
Cooked in a very hot spicy sauce with potatoes
£6.95
Vindaloo King Prawn
Cooked in a very hot spicy sauce with potatoes
£11.95
Vindaloo Lamb
Cooked in a very hot spicy sauce with potatoes
£6.50
Vindaloo Lamb Tikka
Cooked in a very hot spicy sauce with potatoes
£6.95
Vindaloo Okra Special
Cooked in a very hot spicy sauce with potatoes
£10.95
Vindaloo Prawn
Cooked in a very hot spicy sauce with potatoes
£6.95
Vindaloo Vegetable
Cooked in a very hot spicy sauce with potatoes
£5.50
Curry Chicken
The traditional favourite cooked in a medium sauce
£6.50
Curry Chicken Tikka
The traditional favourite cooked in a medium sauce
£6.95
Curry King Prawn
The traditional favourite cooked in a medium sauce
£11.95
Curry Lamb
The traditional favourite cooked in a medium sauce
£6.50
Curry Lamb Tikka
The traditional favourite cooked in a medium sauce
£6.95
Curry Okra Special
The traditional favourite cooked in a medium sauce
£10.95
Curry Prawn
The traditional favourite cooked in a medium sauce
£6.95
Curry Vegetable
The traditional favourite cooked in a medium sauce
£5.50
Chilli Massala Chicken
Cooked in a very hot spicy sauce, with fresh green chillies, garlic & coriander
£6.50
Chilli Massala Chicken Tikka
Cooked in a very hot spicy sauce, with fresh green chillies, garlic & coriander
£6.95
Chilli Massala King Prawn
Cooked in a very hot spicy sauce, with fresh green chillies, garlic & coriander
£11.95
Chilli Massala Lamb
Cooked in a very hot spicy sauce, with fresh green chillies, garlic & coriander
£6.50
Chilli Massala Lamb Tikka
Cooked in a very hot spicy sauce, with fresh green chillies, garlic & coriander
£6.95
Chilli Massala Okra Special
Cooked in a very hot spicy sauce, with fresh green chillies, garlic & coriander
£10.95
Chilli Massala Prawn
Cooked in a very hot spicy sauce, with fresh green chillies, garlic & coriander
£6.95
Chilli Massala Vegetable
Cooked in a very hot spicy sauce, with fresh green chillies, garlic & coriander
£5.50
Ceylon Chicken
A fairly hot dish cooked with coconut
£6.50
Ceylon Chicken Tikka
A fairly hot dish cooked with coconut
£6.95
Ceylon King Prawn
A fairly hot dish cooked with coconut
£11.95
Ceylon Lamb
A fairly hot dish cooked with coconut
£6.50
Ceylon Lamb Tikka
A fairly hot dish cooked with coconut
£6.95
Ceylon Okra Special
A fairly hot dish cooked with coconut
£10.95
Ceylon Prawn
A fairly hot dish cooked with coconut
£6.95
Ceylon Vegetable
A fairly hot dish cooked with coconut
£5.50
Bhuna Chicken
Cooked in a thick medium sauce with sliced onions, tomatoes & coriander
£6.50
Bhuna Chicken Tikka
Cooked in a thick medium sauce with sliced onions, tomatoes & coriander
£6.95
Bhuna King Prawn
Cooked in a thick medium sauce with sliced onions, tomatoes & coriander
£11.95
Bhuna Lamb
Cooked in a thick medium sauce with sliced onions, tomatoes & coriander
£6.50
Bhuna Lamb Tikka
Cooked in a thick medium sauce with sliced onions, tomatoes & coriander
£6.95
Bhuna Okra Special
Cooked in a thick medium sauce with sliced onions, tomatoes & coriander
£10.95
Bhuna Prawn
Cooked in a thick medium sauce with sliced onions, tomatoes & coriander
£6.95
Bhuna Vegetable
Cooked in a thick medium sauce with sliced onions, tomatoes & coriander
£5.50
Dansak Chicken
Fairly hot, sweet & sour, cooked with lentils & spices
£6.50
Dansak Chicken Tikka
Fairly hot, sweet & sour, cooked with lentils & spices
£6.95
Dansak King Prawn
Fairly hot, sweet & sour, cooked with lentils & spices
£11.95
Dansak Lamb
Fairly hot, sweet & sour, cooked with lentils & spices
£6.50
Dansak Lamb Tikka
Fairly hot, sweet & sour, cooked with lentils & spices
£6.95
Dansak Okra Special
Fairly hot, sweet & sour, cooked with lentils & spices
£10.95
Dansak Prawn
Fairly hot, sweet & sour, cooked with lentils & spices
£6.95
Dansak Vegetable
Fairly hot, sweet & sour, cooked with lentils & spices
£5.50
Dopiaza Chicken
A medium hot dish cooked with chopped onions, peppers & garlic
£6.50
Dopiaza Chicken Tikka
A medium hot dish cooked with chopped onions, peppers & garlic
£6.95
Dopiaza King Prawn
A medium hot dish cooked with chopped onions, peppers & garlic
£11.95
Dopiaza Lamb
A medium hot dish cooked with chopped onions, peppers & garlic
£6.50
Dopiaza Lamb Tikka
A medium hot dish cooked with chopped onions, peppers & garlic
£6.95
Dopiaza Okra Special
A medium hot dish cooked with chopped onions, peppers & garlic
£10.95
Dopiaza Prawn
A medium hot dish cooked with chopped onions, peppers & garlic
£6.95
Dopiaza Vegetable
A medium hot dish cooked with chopped onions, peppers & garlic
£5.50
Kashmir Chicken
A very mild creamy dish cooked with banana slices & delicate light flavours
£6.50
Kashmir Chicken Tikka
A very mild creamy dish cooked with banana slices & delicate light flavours
£6.95
Kashmir King Prawn
A very mild creamy dish cooked with banana slices & delicate light flavours
£11.95
Kashmir Lamb
A very mild creamy dish cooked with banana slices & delicate light flavours
£6.50
Kashmir Lamb Tikka
A very mild creamy dish cooked with banana slices & delicate light flavours
£6.95
Kashmir Okra Special
A very mild creamy dish cooked with banana slices & delicate light flavours
£10.95
Kashmir Prawn
A very mild creamy dish cooked with banana slices & delicate light flavours
£6.95
Kashmir Vegetable
A very mild creamy dish cooked with banana slices & delicate light flavours
£5.50
Korma Chicken
Cooked in a very mild & creamy sauce
£6.50
Korma Chicken Tikka
Cooked in a very mild & creamy sauce
£6.95
Korma King Prawn
Cooked in a very mild & creamy sauce
£11.95
Korma Lamb
Cooked in a very mild & creamy sauce
£6.50
Korma Lamb Tikka
Cooked in a very mild & creamy sauce
£6.95
Korma Okra Special
Cooked in a very mild & creamy sauce
£10.95
Korma Prawn
Cooked in a very mild & creamy sauce
£6.95
Korma Vegetable
Cooked in a very mild & creamy sauce
£5.50
Garlic Chilli Chicken
Marinated pieces of chicken with light spices, fresh garlic & chilli cooked in the clay oven then completed in a stir fry, peppers, onions & coriander
£6.95
Barbrick Chicken Tikka
Chicken OR lamb tikka stir fried with onions, peppers & mushrooms (this dish is not cooked in a sauce)
£7.95
Barbrick Lamb Tikka
Chicken OR lamb tikka stir fried with onions, peppers & mushrooms (this dish is not cooked in a sauce)
£7.95
Peri Peri Chicken
Grilled strips of chicken marinated in a special peri peri sauce
£7.95
Naga Grill
Grilled strips of chicken & lamb tikka cooked with onions, peppers & Naga sauce, fairly hot dish
£7.95
Maas Biran Main
Fillets of a white Bangladeshi fish, lightly spiced & cooked in the clay oven, finished in a stir fry with onions, peppers, coriander & a hint of garlic
£7.95
Shashlik Main Chicken
Tender pieces of marinated chicken OR lamb barbecued with onions, peppers & tomatoes
£7.95
Shashlik Main Lamb
Tender pieces of marinated chicken OR lamb barbecued with onions, peppers & tomatoes
£7.95
Tandoori Chicken
Tender chicken on the bone marinated with fresh spices & cooked in the clay oven
£6.50
Tandoori King Prawn
Marinated with herbs & spiced cooked in the clay oven
£10.95
Tandoori Mixed Grill
Chicken tikka, lamb tikka, tandoori chicken & seekh kebab served with naan bread
£9.95
Tikka Main Chicken
Pieces of chicken OR lamb fused with the finest spices in a marinade & cooked in the clay oven
£6.50
Tikka Main Lamb
Pieces of chicken OR lamb fused with the finest spices in a marinade & cooked in the clay oven
£6.50
Tikka Madhu
Roasted pieces of chicken cooked with caramelised onions & peppers, finished with honey
£7.95
Garlic Saag Rice
Fresh spinach & garlic
£2.65
Naga Rice
With green chillies & Naga pickle
£2.65
Chutneys Tamarind Chutney
£0.50
Contact Us
Find Us
21 High Street, Bozeat, NN297NF
We deliver to
MK43, MK44, MK46, NN10, NN29, NN6, NN7, NN8